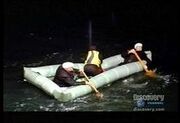 The Myth - Frank Morris and the Anglin brothers successfully escaped from Alcatraz prison using an inflatable raft made from rubber raincoats and made it to freedom.
Verdict - Plausible
Notes - The makeshift raft crafted and crewed by the MythBusters team did indeed reach the shore, but at the Marin Headlands instead of Angel Island. They declared it "Plausible" because no conclusive evidence has ever been found suggesting the prisoners survived the actual incident, and personal effects washed up later on shore, indicating that the men probably failed to navigate correctly and drowned in San Francisco Bay. However, a portion of the scale tests (cut for time but later shown in "MythBusters Outtakes") did show that these belongings could have been released by the prisoners and washed up where they were found through strategic use of the Bay's tides to throw the authorities off their trail. Therefore, the show's hosts ruled that it was "plausible" that the prisoners may have survived their intricate escape attempt.
References
Edit
Ad blocker interference detected!
Wikia is a free-to-use site that makes money from advertising. We have a modified experience for viewers using ad blockers

Wikia is not accessible if you've made further modifications. Remove the custom ad blocker rule(s) and the page will load as expected.